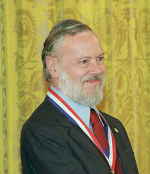 It was just a few days ago when we
learned about the death of Steve Jobs
, now we hear about passing away of another great figure of computer science and IT world.
Dennis Ritchie had great impact on computers as we know them today. The co-creator of the original Unix and, what is probably even more important for all Qt programmers all over the world, the person behind the C language, probably the first programming language learned by many of us and the direct ancestor to C++.
Qt Centre community
offers its condolences
to everybody who knew him.